Product Image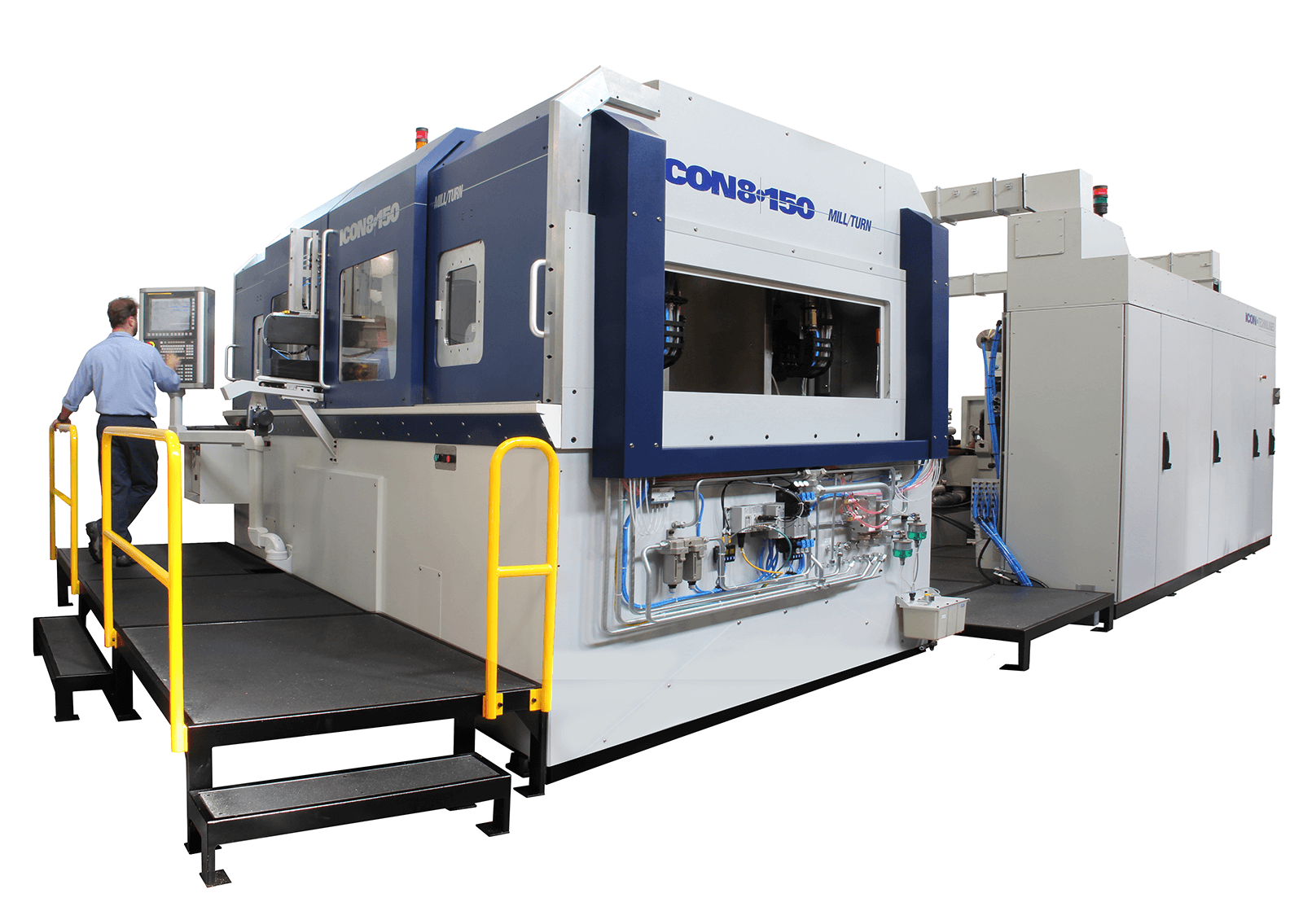 Versatile System for Increased Production
The ICON 8-150 is designed with six machining stations and two dedicated loading/unloading stations, the ICON was developed around flexible machining principles. Equipped with a six position table, it shuttles pallets to four machining modules for fast, ultra-precision cutting.
These six cutting stations produce 5-sided machining with 4-axis interpolation; 6 sides if the idle station is used for work piece inversion.
These benefits coupled with the ICON's flexibility creates a highly innovative solution to produce parts complete, with fast cycle times and a superior surface finish.
The Ultimate in Productivity & Flexibility
The unique design of the ICON 8-150 combines flexible machining center principles with Hydromat's rotary transfer production philosophy while incorporating engineering excellence with the finest materials and components. The results are a robust machining center with extreme versatility.
Technical Specification Table
Index Drives
Pallet Changer
Tool Changer
Amount of Index drives: 6 positions
Index speed: 0.9 seconds for 180°
Rotation: 360.000x0.001°
Maximum Turning Speed: 5,000rpm
Maximum payload per pallet: 30 kg (66 lb)
Direct Drive via Fanuc Torque Motor
Amount of Pallets: 8
Single Index (8 x 45°)
Double Index (3 x 90°)
Table Index Time: 3.5 seconds
Tool head receiver: HSK E40
12 tool positions
Chip to chip: 3 - 4 seconds
Maximum tool length: 140 mm (5.5 in)
Maximum diameter: 45 mm (1.8 in)
Maximum tool weight: 4 kg (8.8 lb)
Coolant System
Controls / Voltages
 
30μm high pressure
Up to 80bar through spindle
Self cleaning permanent media
75μm low pressure
Paper or cartridge filter media
Control: Fanuc 30i
Drives: Fanuc 30i
Main Voltage: 480V @ 60 Hz
 
---
Standard Machining Module
Stroke:
X -120mm Y - 250mm Z - 250mm
Stal Torque X, Y & Z:
8Nm
Rapid Speed:
50 m/min max. (197 ft / min)
Axis Construction:
Ball Screw
Capability:
Horizontal Drilling
Horizontal Milling
Horizontal Boring
Integrated Spindle Motors:
Water Cooled
Power @ 40%: 36 kW
Torque @ 3,500 /12,000 RPM 98 / 29 Nm
Spindle Motor Interface:
HSK- E40 or E32
Spindle Performance:
Standard Spindle RPM: 42,000 max
Option 1 Spindle RPM: 20,000 max
Option 2 Spindle RPM: 60,000 max
 
 
Optional Turning Module
Size of cutting tool holder:
¼" tool shanks
½" boring/Drilling holder
Capability:
Vertical Drilling
Vertical Boring
Vertical/Horizontal Turning
Tooling:
Up to 12 Turning or Drilling tools
 
 
Optional Mill/Turn Module
Size of cutting tool holder:
¼" tool shanks
½" boring/Drilling holder
Capability:
Vertical Drilling
Vertical Boring
Vertical/Horizontal Turning
Tooling:
1 Fixed and 12 Turning or Drilling tools