Design AND Engineering - Advanced Product Group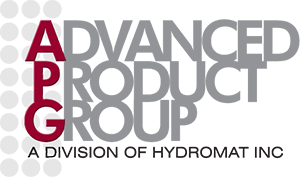 The Hydromat Advanced Product Group consists of a team of dedicated individuals whose backgrounds run deep in the tradition of high-precision metalworking.
The engineering expertise of this group is available to manufacturers who, like yourself, appreciate the concept of the "smarter design" ideal. They are just as passionate about productive solutions as you are.
Project engineers work hand-in-hand with customers to develop unique, tailored manufacturing process solutions. SPC values are carefully weighed during preliminary project evaluations. An engineering committee, including a wide array of metalworking disciplines, monitors every phase of each project. Time charts track project build and on-time delivery.
If you need a custom engineered component or procedure consultation:
contact the Advanced Product Group: (314) 810-3925
Manufacturing
The manufacturing group can build machines and fixtures in sizes that range from 1/8 inch, to the size of a truck, with the highest quality standards. When building any machine, reliability, performance, and dependability are always the top priority. Drawing from Hydromat's 30 years of machine building experience, our talented manufacturing Welding and fabrication services are available on our St. Louis campus.
Hydromat Grade Tooling - Advanced Tooling Group

Hydromat is proud to introduce the new Advanced Tooling Group (ATG). This group has newly expanded perishable tooling services with the addition of the ANCA TX-7 CNC Grinding System. This impressive production grinder adds a new dimension to the already impressive Hydromat machine shop capabilities. Grind Shop Supervisor and 20 year Hydromat veteran Dennis Jaycox loves this new machine, "We looked at all the machines out there, and I think the ANCA is the best machine, bar none." The ease of programming and set-up coupled with the speed the ANCA allows Jaycox and the ATG team to be competitive with other tooling manufacturers whether it's an order for one tool, 50 tools, or more.
When the calculations are done, including the downtime, higher quality tools pay off with more parts between sharpenings. "Our tools have been quite successful," notes Steve Thomas, Senior Manufacturing Engineer. "We use a special long lasting carbide. As an example, not too long ago a Hydromat machine user came to us with a problem. The original tools we made for him when we built the machine lasted 90,000 parts, but the best he could get from his other tool vendors was 20,000 parts," Thomas continues, "He asked us to create those tools again. Now we get all of his business."
The Hydromat Advanced Tooling Group is dedicated to supplying the highest quality tooling at competitive prices. It's knowledge and skill that gives them the edge, "Who would know best how to make tools for a Hydromat machine? Hydromat Incorporated," remarked Thomas, answering his own rhetorical question, "especially with the decades of experience of we have on our staff, and we live and breathe this stuff...day in and day out," he concluded.
Certified Hydromat Precision Collets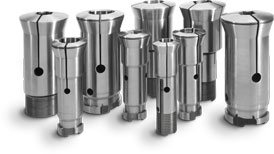 It's happened to most Hydromat users at one time or another. An off-brand collet causes production delays and, at times, damage to the machine. Why put inferior collets into your Hydromat and take a chance of voiding your warranty, the expenses in time and material could become excessive.
Use official Hydromat Precision Collets in your machine for long-lasting performance and value. Other brands have been known to have premature failures due to the use of sub-standard materials and design flaws. Inconsistencies in their manufacturing processes can also cause repeatability issues. Hydromat's better-designed collets are made from the finest material in the world and produced to the most exacting specifications and tighter tolerances while remaining competitively priced.
There are plenty of imitations out there offered by one-man operations, but there is only one place to get a true Hydromat Precision Collet; Hydromat Inc. in St. Louis, Missouri.
Call us today at (314) 810-3925.