Design AND Engineering - Advanced Product Group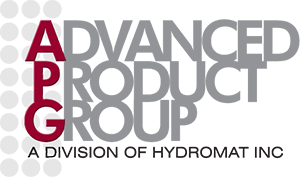 The Hydromat Advanced Product Group consists of a team of dedicated individuals whose backgrounds run deep in the tradition of high-precision metalworking.
The engineering expertise of this group is available to manufacturers who, like yourself, appreciate the concept of the "smarter design" ideal. They are just as passionate about productive solutions as you are.
Project engineers work hand-in-hand with customers to develop unique, tailored manufacturing process solutions. SPC values are carefully weighed during preliminary project evaluations. An engineering committee, including a wide array of metalworking disciplines, monitors every phase of each project. Time charts track project build and on-time delivery.
If you need a custom engineered component or procedure consultation:
contact the Advanced Product Group: (314) 810-3925

Manufacturing
The manufacturing group can build machines and fixtures in sizes that range from 1/8 inch, to the size of a truck, with the highest quality standards. When building any machine, reliability, performance, and dependability are always the top priority. Drawing from Hydromat's 30 years of machine building experience, our talented manufacturing Welding and fabrication services are available on our St. Louis campus.
Certified Hydromat Precision Collets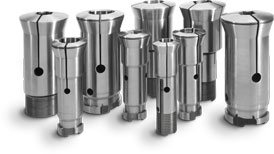 It's happened to most Hydromat users at one time or another. An off-brand collet causes production delays and, at times, damage to the machine. Why put inferior collets into your Hydromat and take a chance of voiding your warranty, the expenses in time and material could become excessive.
Use official Hydromat Precision Collets in your machine for long-lasting performance and value. Other brands have been known to have premature failures due to the use of sub-standard materials and design flaws. Inconsistencies in their manufacturing processes can also cause repeatability issues. Hydromat's better-designed collets are made from the finest material in the world and produced to the most exacting specifications and tighter tolerances while remaining competitively priced.
There are plenty of imitations out there offered by one-man operations, but there is only one place to get a true Hydromat Precision Collet; Hydromat Inc. in St. Louis, Missouri.
Call us today at (314) 810-3925.