Product Image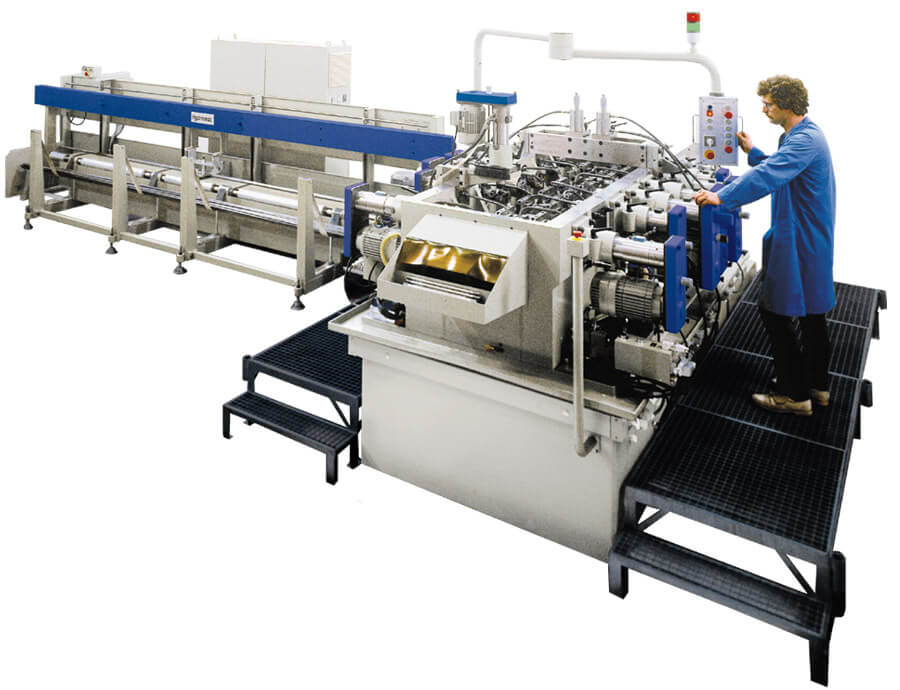 The Inline Standard-8 transfer machine is a modular system consisting of up to 16 horizontal and 7 vertical tool spindle units rigidly mounted on a precision cast iron frame. This modular machine has the capability of providing tremendous versatility and flexibility in a turn-key machining system.
With 1" capacity the Inline machine is well suited for the manufacturing of parts between 8" and 22" in length from bar stock or blanks.
Consistent, high productivity, and precise machining, combined with the elimination of costly secondary operations make the Inline machine an outstanding solution for cost effective manufacturing.
Features
Eliminates secondary options
Reduces work in process
No cams or limit switches
Independent infinitely variable feed rate control for each station
Non-rotating bar stock provides quiet, vibration-free operation
Enclosed, easily accessible tooling area
Modular toolspindle system with quick-change pre-settable heads for easy changeover
Coolant and chips contained in tooling area away from motors and controls
Extremely short bar remnants and thin cutoff provides significant material savings
All operating controls and machine adjustments readily accessible and easy to use
Precision part locating provides consistency and accuracy to ensure quality parts with SPC to 2.0 CpK in some instances
Easily adapted vertical flanges provide flexible application of cross drilling, milling or other vertical machining requirements
Technical Specification Table
Max Stock Size
 
Rnd
Hex
Sq
Hor. Station
Vert. Station
Weight LBS
Machine Power
1 3/4"
1 1/2"
1 1/4"
16
7
20,000
60HP (Avg)