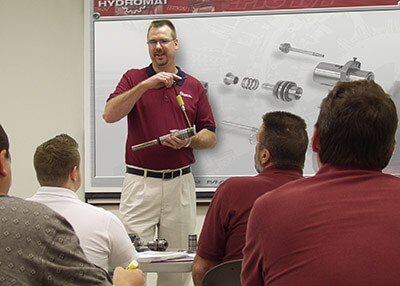 2022 Hydromat Training Class Calendar
Epic Operations Training includes introduction to the EPIC controls, basic single and multi-axis programming. Also covers major Hydromat components and accessories.
Note: We will fill class registration with persons from a number of companies, and limit our class size to 10. If demand is greater than 10, additional classes will be scheduled. Classes may be rescheduled if registration does not meet the minimum number of attendees.
Registration: Minimum three weeks in advance.
Price for the four-day EPIC seminar is $975.00 per person. Catered lunch daily.
As a prerequisite for the EPIC class, we recommend 1-2 years' experience on the machine.
Hydromat is conveniently located 15 minutes from St. Louis Lambert International Airport. Travel should be planned for arrival Monday. Class to start at 8:00 a.m. Tuesday morning and the departure should be Friday, 4:00 p.m. or later for the EPIC seminar.
A cancellation fee of 50% of the cost of the course will apply if canceled less than three weeks prior to course.
2022 Current Schedule
| MONTH | DATE | TYPE OF SEMINAR |
| --- | --- | --- |
| FEBRUARY | 25 - 27 Tuesday-Thursday | EPIC |
| MARCH | Open | Open |
| APRIL | 19 - 21 Tuesday-Thursday | EPIC |
| MAY | Open | Open |
| JUNE | 28 - 30 Tuesday-Thursday | EPIC |
| JULY | Open | Open |
| AUGUST | 09 - 11 Tuesday-Thursday | EPIC |
| SEPTEMBER | Open | Open |
| OCTOBER | Open | Open |
| NOVEMBER | 01 - 03 Tuesday-Thursday | EPIC |
| DECEMBER | Open | Open |
Dates are subject to change.
Class Registration & Questions
For more information on the EPIC class, or to discuss a Legacy class, or to register, please call Steve Crowder at (314) 810-3834
---
CD Training Course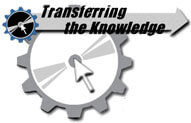 Transferring the Knowledge is the Hydromat interactive cd training course for Rotary Transfer machines. The cd set is a step-by-step program designed to familiarize you with machine set-up and operation, allowing you to work at your own pace.
Some of the topics covered in the set are: machine operating safety, installing control valves, moving the inverting unit, loading & cutoff, recess and recess turning, troubleshooting, and more. Once the CD training series is complete you will have the base knowledge for Hydromat set-up and operation.
This interactive series is meant for use as a beginner training course. The Hydromat Technical Training course has a prerequisite of finishing this CD series or years of Hydromat experience. Upon completion of this course, machinists should still work under experienced supervision for a period of time.
Please refer to your machine manual for machine-specific safety features and proper operation.
CD Training Benefits
Enhance your working knowledge of CNC Rotary Transfer machines
Raise your companies' overall standard for productivity, quality, and safety
Learn the tasks needed as a setup operator
Work at your own pace
Utilize step-by-step instruction
Glossary & Help section for reference
For more information or to order, contact customer service at (314) 432-4644