Product Image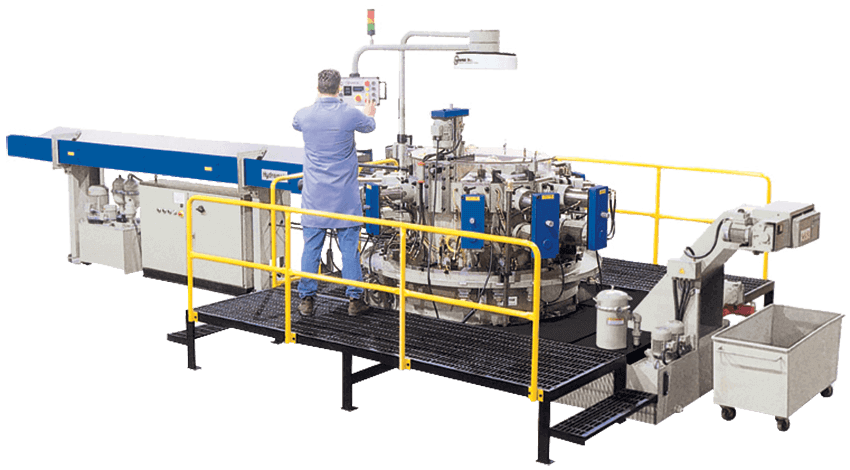 The HB 45-12 rotary transfer machine is a modular system consisting of up to 12 horizontal and 6 vertical toolspindle units rigidly mounted around a precision cast-iron ring. This arrangement has the capability of providing tremendous versatility and flexibility in a turn-key machining solution.
With 1-3/4" capacity, the HB 45-12 machine is ideally suited to produce parts from bar stock or blanks up to 6" in length.
Consistent high production & precise machining, combined with the elimination of costly secondary operations make the HB 45-12 machine an outstanding solution for cost-effective manufacturing.
Features
Up to 12 horizontal & 6 machining stations
Eliminates secondary operations
Extreme accuracy and reliability of a Hirth ring
Several different unit sizes available
Coolant chiller optional
Multiple loading and chip system options
Hydromat Advantages Over Conventional Machining
Eliminates secondary operations
Extremely short remnants and thin cutoff for significant material saving
Reduces work in progress
Increased productivity due to bar change and quick changeover capabilities
Non-rotating bar stock provides quiet vibration free operation
Modular tool spindles quick-change presettable heads for easy changeovers
Easily adapted for vertical machining requirements - up to 6 stations
Easily accessible operating controls and machine adjustments
Coolant and chips contained in the tooling area away from motors and controls
Precision table indexing and repeatability ensures accuracy with SPC to 2.0 CpK
Inverting unit repositions part for complete end to end machining
Technical Specification Table
Max Stock Size
 
Rnd
Hex
Sq
Hor. Station
Vert. Station
Index Time
Weight LBS
Machine Power
Size Unit Options
1 3/4"
1 1/2"
1 1/4"
12
6
0.700 sec
15,000
43HP (Avg)
20/80
26/80
35/60
36/100
45/80
46/120
50/100