Product Image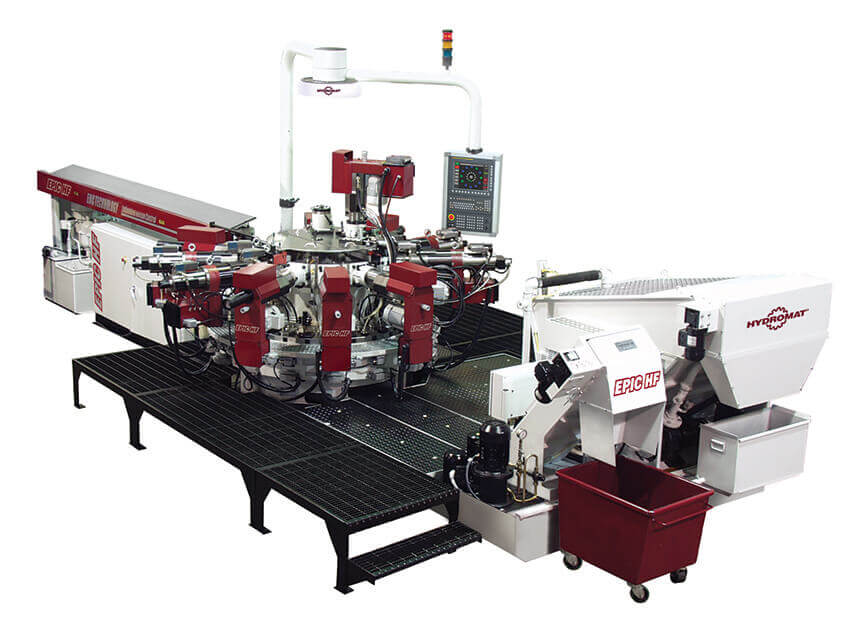 The Hydromat EPIC HF FANUC line of rotary transfer machines can be equipped with collets or chucks for precision metal cutting. This exceptional design is a modular system consisting of horizontal and vertical toolspindles mounted around a precision cast base.The EPIC HF machines possess all of the general characteristics of the more conventional Hydromat machines and maintains the integrity, reliability and flexibility of its predecessors. Applying CNC technology to the manufacture of precision parts is generally accepted as a premium that one must pay for the advantages over conventional actuation systems.
All machines use the FANUC 30i-B as a controller option. A control known, used, and trusted industry-wide by many best-in-class machine manufacturers.
The EPIC HF 25-12 utilizes up to 12 horizontal toolspindles and has the capacity of 6 vertical toolspindles. That's up to 18 tools in the cut at once. This design provides tremendous versatility and flexibility in a turnkey machining system. It has the rigidity to handle all components and all material types within its work envelope.
Features
Fanuc G-code programming – most widely-used control language in the world.
Uses standard, affordable induction motors for most common operations.
Hydromat HMI software provides max. ease-of-use & reliability.
Vector spindle drives located in air-conditioned electrical cabinet.
Keyboard attached to pendant, doesn't need charging.
No plugs on command or feedback cables - Mil-Spec. connectors.
No valve programming.
No junction boxes attached to spindle.
EPIC HF FANUC Features
Enhanced functionality and superior performance extends the potential of machine capabilities into the future.
CNC enhancements can be adopted over time, either by learning on the CNC or by using FANUC's realistic and efficient NCGuide CNC simulator.
Custom Macro extends the standard programming language to include the features of an easy-to-use, yet powerful computer programming language.
Familiar folder tree-view is similar to that used on PCs, making it easy to visualize the structure.
Simple menu-driven conversational programming screens eliminate the tedium and error-prone process of generating the same multiple blocks of G-code.
MANUAL GUIDE i is supported by NCGuide and NCGuidePro.
Technical Specification Table
Max Stock Size
 
Rnd
Hex
Sq
Length
Hor. Station
Vert. Station
Index Time
Weight LBS
Machine Power
Size Unit Options
1"
7/8"
3/4"
4"
12
6
0.500 sec
10,000
60HP (Avg)
EPIC 26/80
EPIC 36/100
EPIC 50/100