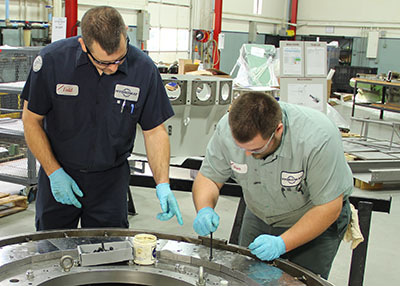 Does the thought of working in the advanced field of precision metal cutting incite you with anticipation for a new occupation? Do you like the challenge that rotary transfer machines present? Would you like to develop your natural aptitude for this field?
Hydromat Inc. offers a unique opportunity for individuals that possess an enthusiasm for machining technology.
Our apprenticeship program produces competent, literate, and well-trained machinist (tool makers) who have the skills to join fellow Hydromat associates in building the industries' finest precision transfer machines.
Our apprenticeship program will expose you to all fundamental areas of milling, turning, grinding, and advanced CNC applications. You will have the opportunity to train in a 6000-hour program focused on achieving a Journeyman Machinist card (fully accredited by the DOL and NTMA) and earn NIMS credentials for Machining Level I & II.
Considering Hydromat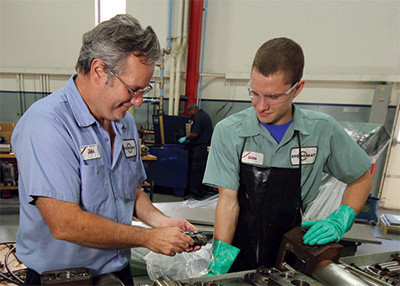 Founded in 1983, the Hydromat Machinist Apprenticeship Program is a benchmark for employer-based job related training programs. It is modeled after a European style apprenticeship program with its rigorous, highly structured, and very disciplined curriculum. Our program consists of 6,000 hours of hands-on training that runs parallel with 576 hours of theoretical classroom training.
Hydromat encourages and continually supports it's apprenticeship program. The formal apprenticeship program is supported by local college affiliates and is complemented by shop floor expertise at Hydromat Inc. The program offers challenging and varied work, honing skills that are invaluable, through continuous and versatile learning opportunities.
During the apprenticeship program you will learn proficient operations of milling machines (manual and CNC), lathes (manual and CNC), grinding, CMM operation and programming, heat treat, basic engineering techniques, fundamental electrical knowledge, basic electronics, quality assurance, welding, fabrication, paint, mechanical assembly, and customer service operations associated with the Hydromat® machines.
Participation as a team member focused on process and production improvement goals is mandatory. Basic hand tool use, blueprint reading, computer design programs, fundamental tool making, inspection, machine maintenance, and mechanical drafting are intricate parts of the overall apprenticeship program curriculum.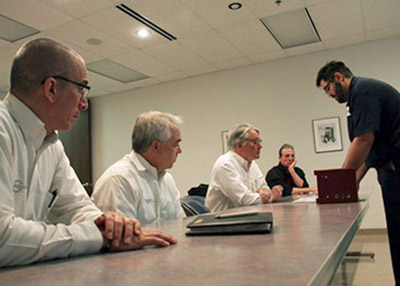 To qualify for a position in Hydromat's apprenticeship program you need a strong work ethic, high school diploma / equivalent, and NIMS level I credentials or equivalent basic machining knowledge.
When you work for a world leader that recognizes and rewards your best efforts, you can expect the best for your career. Explore the exceptional opportunities now available at Hydromat, Inc., the leader in precision transfer machine technology. We provide a state-of-the-art environment where challenge and growth go hand-in-hand.
Hydromat offers one of the best benefit packages in the industry, including profit sharing, bonuses, health insurance, EAP and immediate 401(k) participation.
Take a look at our Apprenticeship Program as featured in:
Production Machining, January / February 2001 : "Training Critical to Industry's Success."
For more information, contact Human Resources
---
Working at Hydromat - A Quick Glimpse
---
Hydromat Machinist Apprenticeship Program
---