Product Image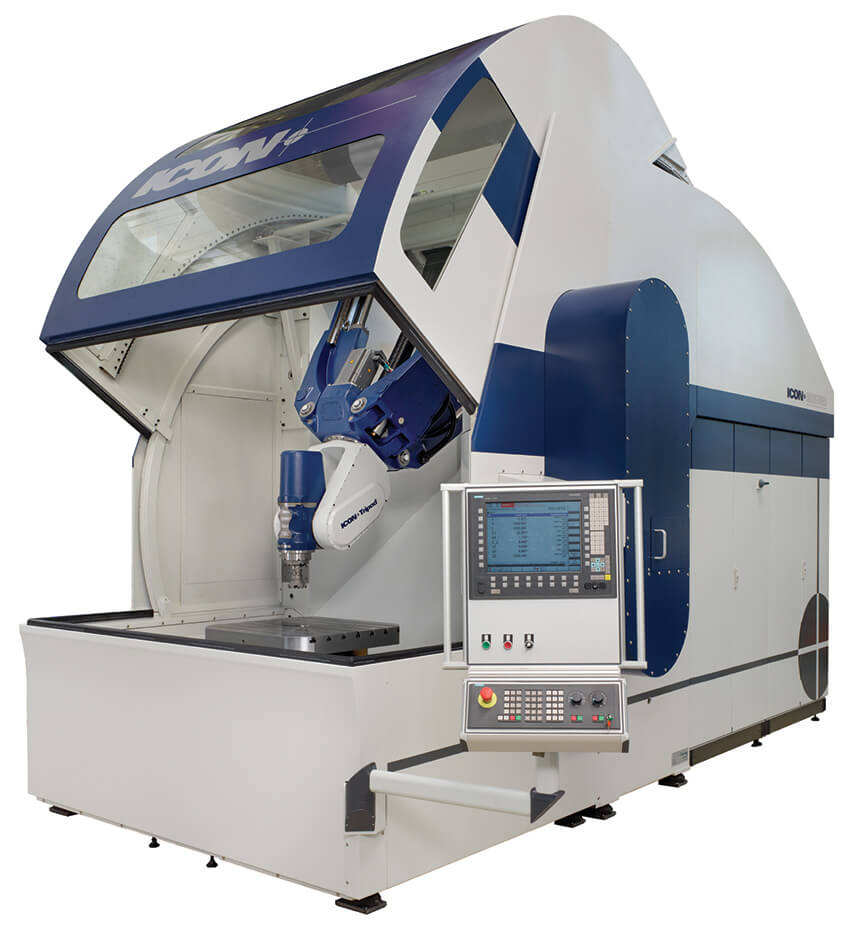 The ICON Tripod is a Parallel Kinematics Machine created for 6-axis interpolation operations either as a stand-alone unit or integrated into a machining cell. The ICON Tripod provides rigid machining capabilities with an extremely small footprint compared to traditional machining centers.
The rigidity of the ICON Tripod is due to the three arm design. By centering the tooling head, the stress is displaced evenly and over a small area rather than over a large machine base.
The accuracy of the Tripod is in the Parallel Kinetics design. Motions on the X, Y, and Z axis are performed by three parallel axes that hold tight while maintaining flexibility.
Parallel Kinematics Advantage
PKM machines easily carry laser or conventional probes and in combination with the 6-axis, extreme acceleration, and rapid motion, it is possible to fly over, measure, analyze, and adjust programming data in seconds.
The ICON Tripod is capable of machining all sides of a part in one setting without inversion or turning processes, which avoids CpK problems that result from the transfer of components within a machining cell.
Complex machining is completed by one machine rather than several specialized machines. The flexibility and accuracy of a PKM allow the Tripod to machine components completely in one setting while holding extreme tolerances.
Features
Modular PKM 6-Axis Machine
800mm Rotary Table with Zero Point Clamping System
Four Tripod Sizes Available: 300, 500, 700 & 900
Multi-Position Toolchanger – 40 or 80 Tool Pockets
Powerful Motor Spindle: 18,000 RPM, 35km