Hydromat Inc. recently announced the introduction of the newest addition to their rotary transfer machine line-up, the EPIC II. This new variation of the famous EPIC R/T platform, like that first EPIC machine introduced 14 years ago, this 2017 version is the first of its kind. The EPIC II is a rotary transfer solution specifically made for advanced production solutions in the future. These machines will possess the general characteristics of their predecessors, maintaining their integrity, reliability, and flexibility.
The first EPIC platform revolutionized Hydromat rotary transfer machining. This second generation of the EPIC R/T platform boasts advancements such as enhanced operations, production reporting, down time analysis, trouble shooting, and preventative maintenance interval scheduling. These features, among others, will yield improved part set-ups, changeovers, process-tooling development and integrated tool monitoring. An upgraded servo control features absolute positioning, and a more efficient architecture that reduces failure points.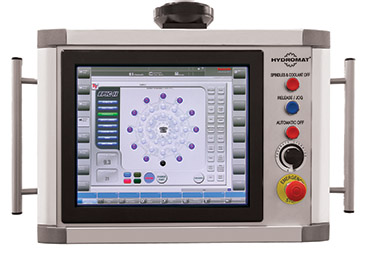 "Hydromat users understand the importance of new technologies in today's marketplace and how it can help them win projects and increase profits, that is why they bring projects to us." stated Matthias Walter, President - Hydromat Inc.
"Only the shops that employ the most advanced machining technologies and are taking advantage of the finest and leanest machining processes will advance in this current business environment. This is why we created the new EPIC II Hydromat machine," stated Bruno Schmitter, Hydromat's CEO/COO, "The EPIC II is a rotary transfer solution specifically made for our customer's production solutions in 2017 and beyond."
All Hydromat rotary transfer machines feature a modular system consisting of as many as 16 horizontal and eight vertical toolspindle units, rigidly mounted around a precision cast iron ring. This arrangement has the capability of providing tremendous versatility and flexibility in a turn-key machining system. The precision ground Hirth ring assures table accuracy and reliability from station to station to within 0.0002". Non-rotating barstock ensures quiet, vibration-free cutting operations. What sets this product line apart is Embedded Motion Control technology for special plug and play control architecture embedded into each toolspindle for fully independent and programmable functionality.
Control Benefits
No PMAC EPIC Boxes
Bosch CNC/PLC Common Control
Direct Access for Valves, Programming & Feedback
Standardized Common Servo Valve
Reduced Wiring and Machine Plugs
More Efficient Architecture with Reduced Failure Points
No Danfoss Motors (Expensive Replacement)
The Evolution Continues:
New Technology Driven Design
Improved Accuracy
Performance Enhancements
Faster Production
Modifications and Standardization
Operational Features:
Improved Accuracy with Absolute Positioning Which Eliminates Need for Unit Home Prox
Replacement Servo Valves Can Be Locally Configured and Programmed On the Machine And Does Not Require Hydromat Assistance
Expanded Canned Cycle Selections to Generate Programs Faster and Easier
Enhanced Operation, Trouble Shooting, and PM Intervals
More Standard CNC Controls for Improved Part Set-Up, Change-Overs, and Process-Tooling Development
Integrated Tool Monitoring (In Development)