Product Image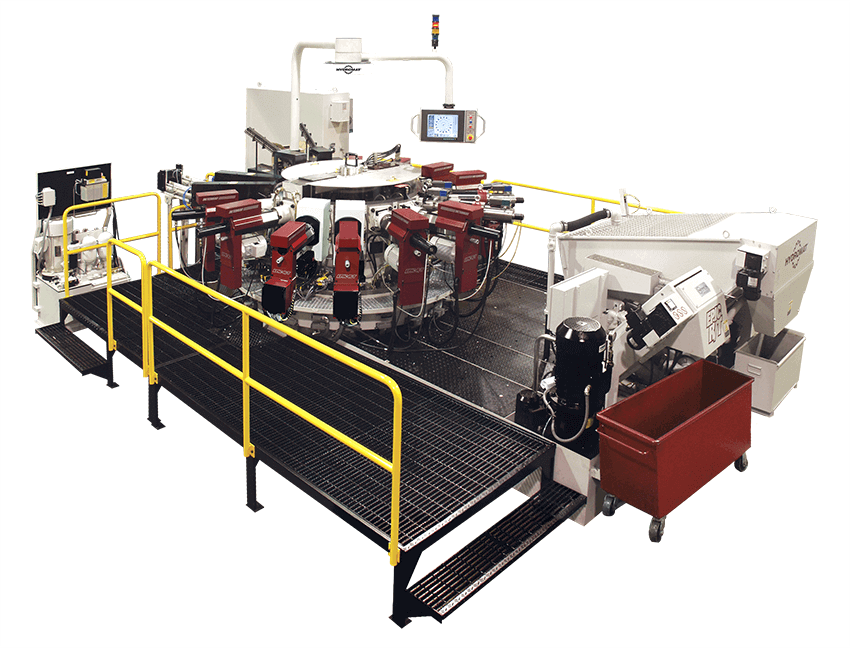 The EPIC R/T HS Indexing Chuck machine combines precision chucks with the indexing accuracy and reliability of the Hirth ring.
Available in 12 or 16 station models, the HS is fully integrated into the Hydromat program, so the same modular components used with Hydromat's popular EPIC R/T models are compatible with the EPIC R/T HS.
This system is ideal for the mid to high-volume, precision production of irregular-shaped castings or forgings and is designed with the flexibility to easily accommodate families of parts.
Features
Available in 12 or 16 station models
Full CNC using Embedded Motion Control Technology (EMC)
Handles blanks up to a 4" cube
Extreme accuracy and reliability of a Hirth ring
Several different unit sizes available
Coolant Chiller optional
Multiple Loading and Chip Systems options
Plug & play EPIC programming for on the fly changes
Every machine sold is individually engineered for optimal cycle time
EPIC R/T Features
Embedded Motion Control (EMC) full CNC programming capabilities
Supports lean manufacturing principals
Quick, easy, changeovers - typically 1-3 hours
Competitive manufacturing for small, medium, and large production
Easy, centralized programming
EMC Technology - simplifies components and wiring
Integrated modem connections provide fast problem solving
Additional Machine Set-Up Options
Loading Options
Chip Systems
Units
Coolant Chiller
Tooling
Technical Specification Table
EPIC HS 12
Max Stock Size
 
Blank
Round
Length
Hor. Station
Vert. Station
Index Time
Weight LBS
Machine Power
Size Unit Options
4" Cube
1 3/4"
8"
12
6
1.2 sec
18,500
53HP (Avg)
20/80
26/80
35/60
36/100
46/120
50/100